(865) 436-5423
Ober Gatlinburg is the Smoky Mountains' top attraction! Ober Gatlinburg boasts numerous fun outdoor activities for all seasons, great dining options, and over 15 different shops selling clothes, accessories, and more. They have two locations, one on the mountain and one downtown, each offering unique shops and dining. If you come during the winter, you'll find activities such as snow tubing, ice skating, and skiing, and snowboarding. During the warmer months, you'll be able to find amusement and water rides, rock climbing,  minigolf, and more! So if you're looking for fun in the sun, or wanting to play in the snow, there is something for you and your family at Ober Gatlinburg!  
Ober Gatlinburg - Ski Resort & Amusement Park
---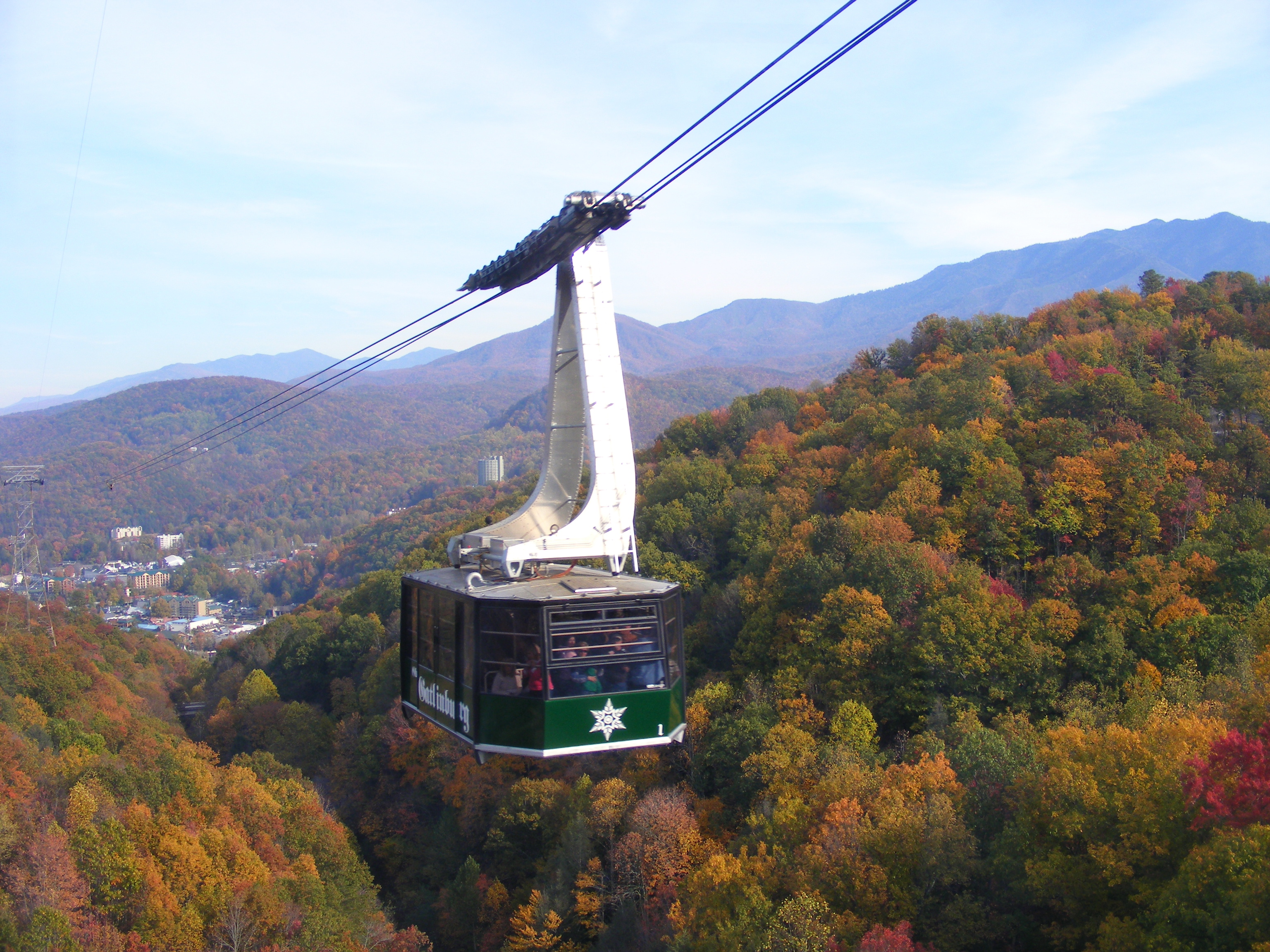 Aerial Tram
Come soar 2.1 miles from downtown Gatlinburg, Tennessee, and a 1472 foot rise in elevation, starting at 1341 feet and reaching a high point of 2813 feet above sea level … already a full 1000 feet higher than any other cable lift in Gatlinburg (or the entire state of TN), except for Ober's own Scenic Chairlift which continues your ascent to the peak of Mt Harrison above our mountaintop park. Our two 120-passenger counter-balanced cars provide an amazing aerial experience for all ages, from the young to the young at heart. Our Aerial Tramway departs from downtown Gatlinburg and will whisk you up directly to our Amusement Park and Ski Area. The highest point off the ground, during the Tram ride, is about 300 feet!
History: In the winter of 1972 an idea to provide a safer, more comfortable way to reach the ski area was needed and the Gatlinburg Aerial Tramway was born. The tramway was completed in August of 1973 and is now celebrating its 48th anniversary having carried MILLIONS OF PEOPLE to Ober Gatlinburg!
Departing regularly from downtown Gatlinburg, this cable car will take you on a breathtaking 2.1-mile ride up to the Amusement Park & Ski Area.
The Aerial Tram station is located at Parkway and LeConte Street in downtown Gatlinburg (1001 Parkway).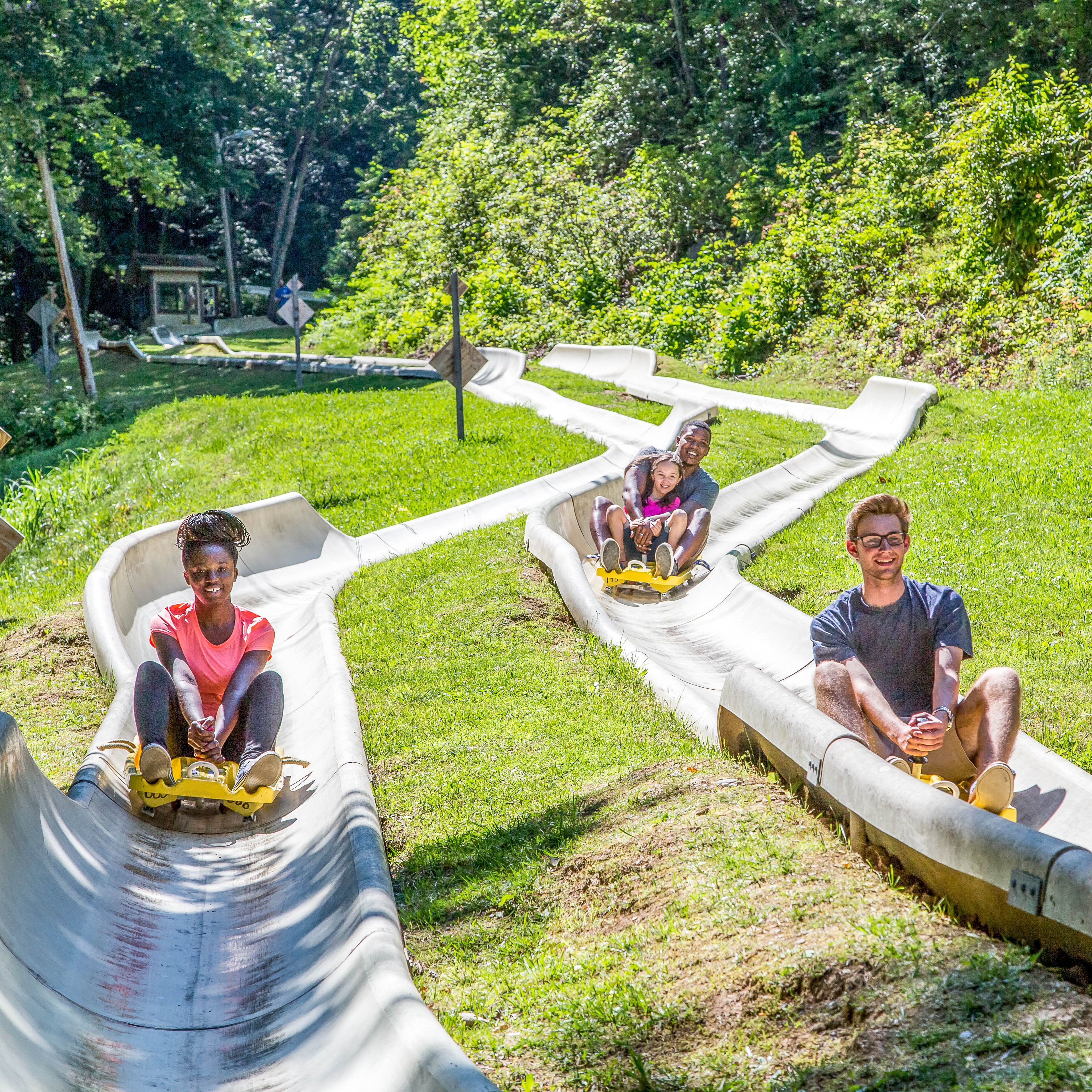 Alpine Slide
We've been sliding since 1976! The Alpine Slide continues to be a huge hit at Ober Gatlinburg. Take the Scenic Chairlift to the midway point, then once you unload, your "chariot" awaits! These sled-like carts have a push/pull the lever so you can control your speed as you wind down either of the 1800' parallel tracks. Race your buddy or take it easy on your descent down the beautiful forests of Mount Harrison and take in the unique views of the Ober Slopes and the Smoky Mountains.
This activity is included in wristband purchases, and those who chose this option may ride as many times as they want. Those who only want to ride once can purchase a single ticket for the slide!
Rock Wall
One of our newest attractions, our 30-foot rock wall is entertaining and a great workout for those of all ages! Each session allows five individuals to scale the wall at the same time while secured to a built-in belaying system. See how fast you can get from the bottom to the top! Then enjoy rappelling down, and celebrate the accomplishment.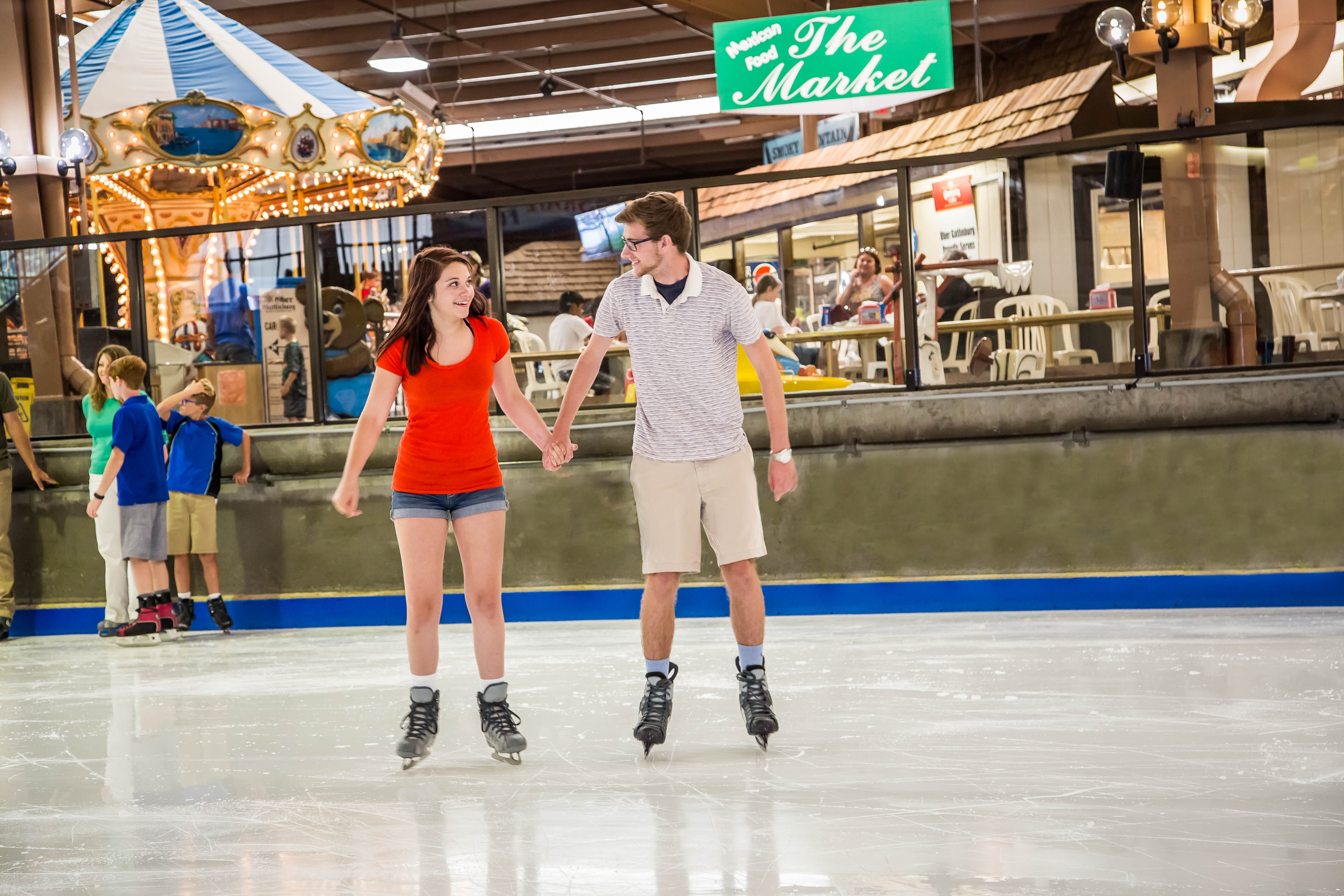 Ice Skating
Strap on a pair of skates and glide around Ober's indoor ice arena! The 140′ X 75′ indoor ice arena is the centerpiece of Ober Gatlinburg's enclosed mall and is open year-round – it's a great way to cool off on a sweltering summer day or put you in the holiday spirit!
This large skating rink is great for beginner and professional skaters alike! There is a handrail around the perimeter which can help novice skaters keep their balance but the rink is large enough to have hosted the Ice Skating Institute (ISI) Team Competitions in the past, some spectacular Christmas on Ice events, and is even host to the Tennessee Special Olympics ice skating competition each year! This area of East Tennessee is home to a lot of great ice skaters, and local talent alone can offer a great show.
Rental skates are available in Toddler Size 6 through Adult Size 15.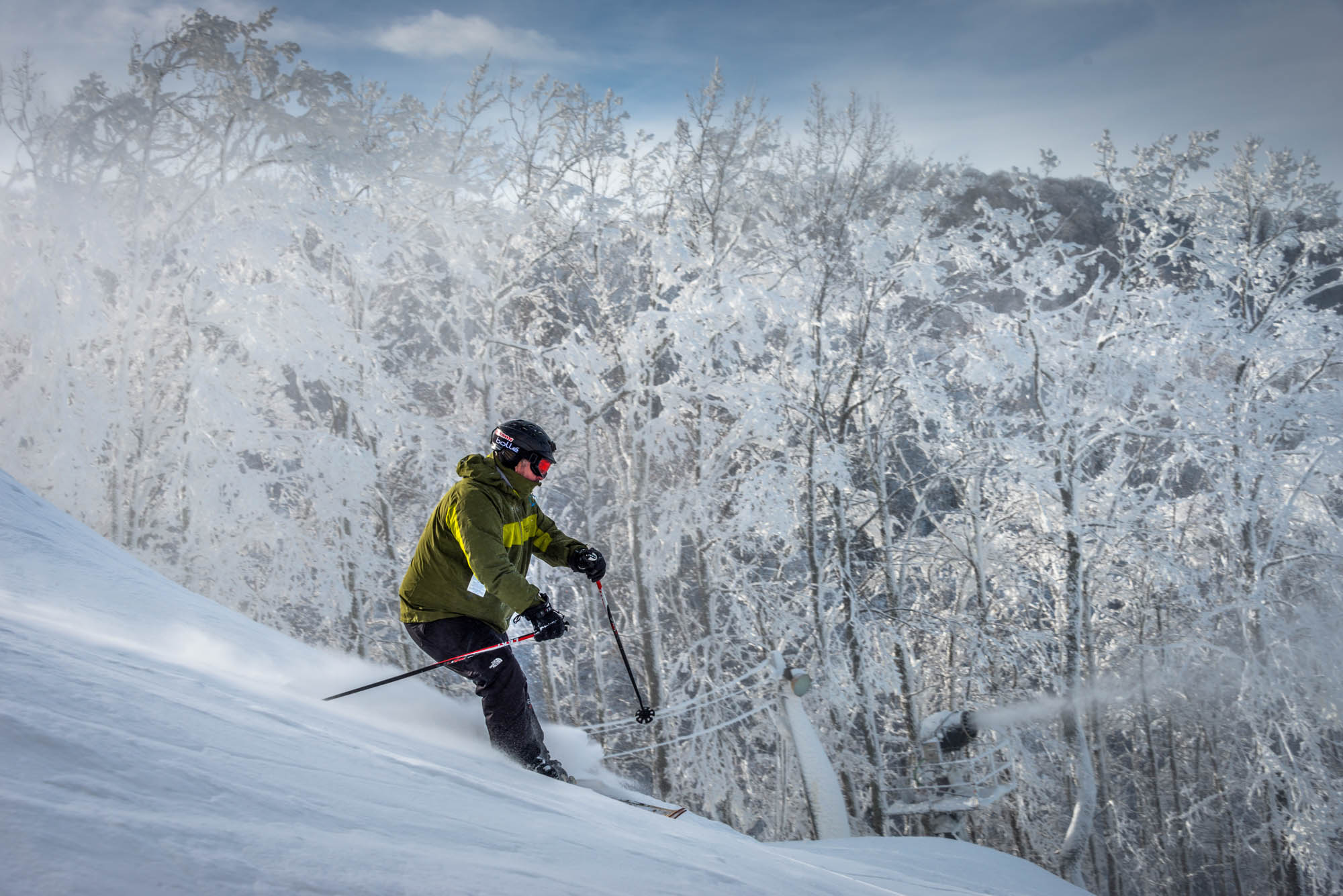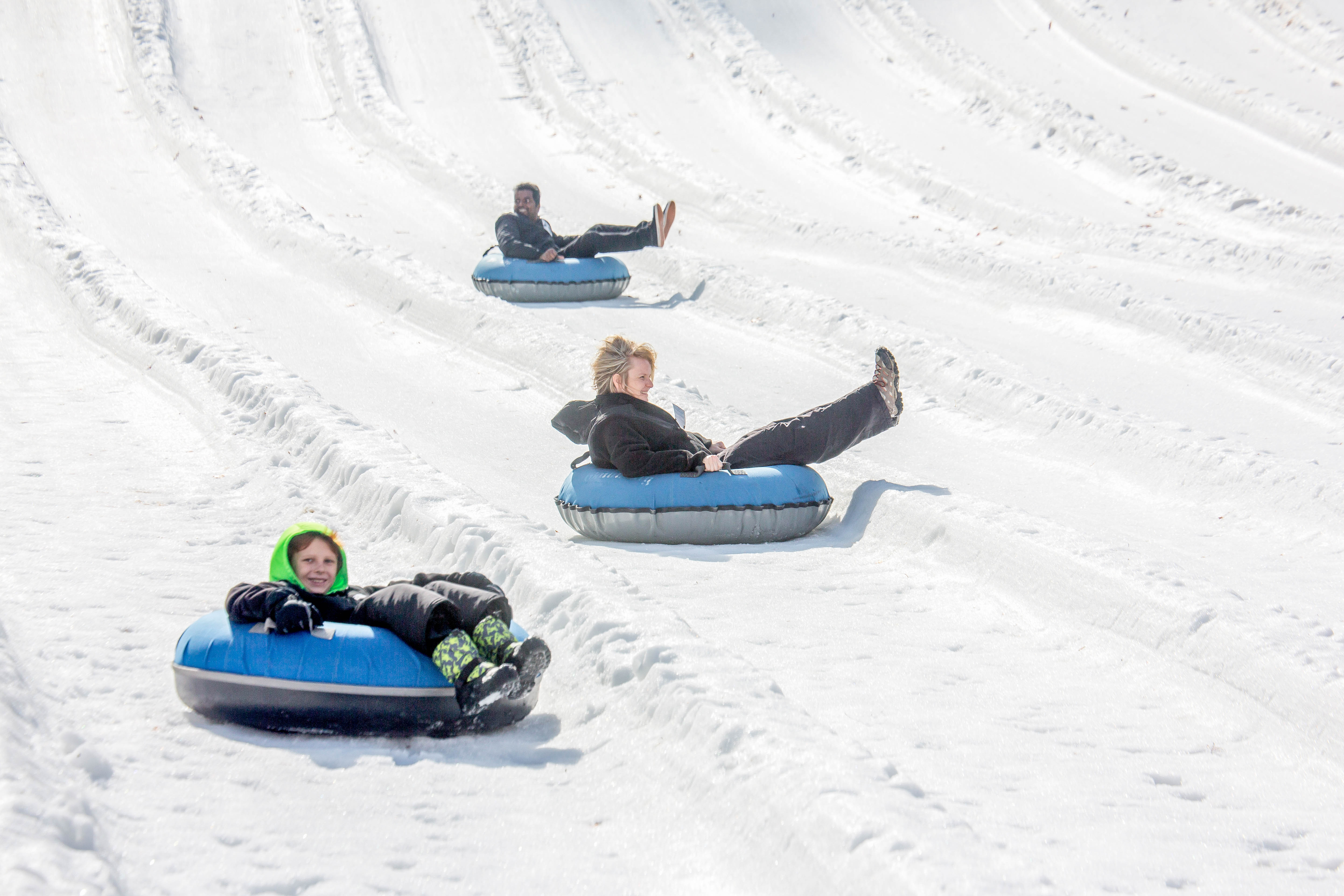 ALL THINGS SNOW
SKIING, SNOWBOARDING, TUBING, AND PLAY
On average, we open the ski slopes in early to mid-December and close in early to mid-March. The exact opening and closing dates for the slopes are determined by Mother Nature … never the same dates from one ski season to the next…and usually not predictable until just days in advance.
---