(888) 240-1358
Get Directions
Enter into an underwater world of wonder at Ripley's Aquarium of the Smokies in Gatlinburg, Tennessee! Soar through moving glide paths alongside rays and sea turtles, soak up the beautiful colors of exotic fish, and come face-to-fin with thousands of other fascinating creatures, from barracudas and sharks to jellies and eels! Ripley's Aquariums' animal experts also entertain and educate through many hands-on experiences, including touch tanks and behind-the-scenes encounters!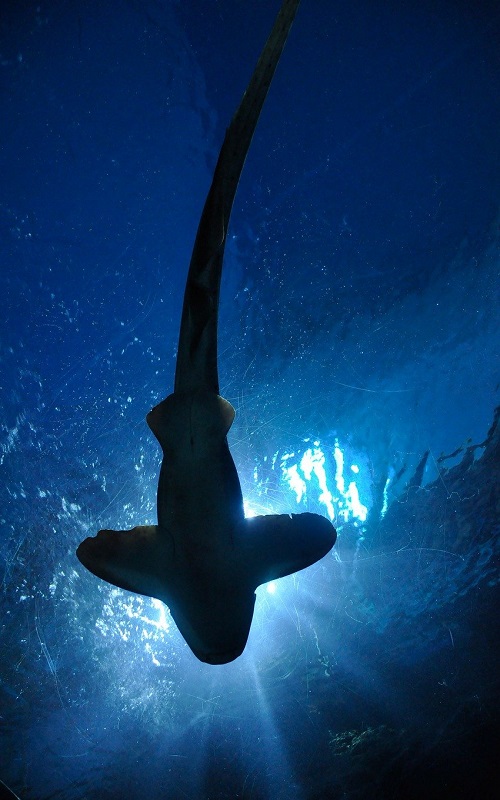 GLASS BOTTOM BOAT
Set sail over Ripley's Shark Lagoon with only three inches of class separating you from predators of the deep! Ripley's Glass Bottom Boat Adventure launches every 20 minutes and is an add-on to your Aquarium ticket.
DIVE SHOWS
Fascinating live dive shows occur regularly in Ripley's Aquarium of the Smokies' reef! If you are interested in viewing a show, please check the dive schedule.
FISH FOR MILES
In an attempt to ward off predators, schooling fish swim in groups, or schools, as a way to look bigger. In the wild, schools may contain billions of fish and stretch for many miles! The disadvantage of schooling behavior is that the fish are easily caught in nets.
Did you know that fish represent 50% of all vertebrate species, outnumbering all mammals, birds, reptiles, and amphibians combined?!
UNDERWATER WITHOUT GETTING WET!

Explore underwater wonders by traveling on a moving 340-foot long glidepath along the ocean floor! Wind your way through the tunnel and come face-to-face with sharks, tarpons, sea turtles, giant stingrays, sawfish, and much more. Want to spend more time with these beautiful sea creatures? Learn more about Ripley's Aquarium of the Smokies' Sleep With The Sharks program.
PENGUINS
Crawl through tunnels and see these amazing birds swim and splash in their Playhouse, both an indoor and outdoor habitat! One of the world's best penguin exhibits, view our feathered friends from above and below the water in this unique interactive exhibit.
Pop up on the penguins' private beach and get nose-to-beak with these curious creatures.
ALL NEW PENGUIN PARADE AT 1:15 P.M. DAILY
Practice makes penguins perfect and our feathered friends have had plenty of time to properly perfect our parade! Staying at home at the Penguin Playhouse earlier this year left Ripley's colony with a lot of time on their flippers—time spent practicing something very special for your next visit! Join Ripley's colony of African penguins as they parade around the Aquarium, eager to meet you and say hello to our other aquatic pals!
SLEEPOVERS AT THE AQUARIUM
Monsters under your bed? How about giant sharks over your head?! Participate in the Aquarium's most popular program offered by the Education Department. Join other groups or bring your own and sleep under the sharks at night!
TOUCH AND LEARN
In this shallow lagoon, guests can reach out and touch Ripley's rays as they glide by. Don't be shy! Their skin is smooth and interacting with them will not hurt you or the animals. Stick to their soft dark top-sides, though, as rays have strong grinding plates in their mouths. Ripley's Aquarium of the Smokies Educators are always on hand to assure safety and to answer any questions regarding these unusual creatures.
LEARN
Solve puzzles and test your knowledge against the experts and your friends! Check the Discovery Center for special class times and topics for group discussions.
Specialized programs are also available for students, teachers, and other social groups.
The Art of Nature
Sometimes certain species are so incredible they look like works of art—almost too beautiful or strange to believe that they even exist. Octopus, seastars, corals, and jellies, animals with bright colors, strange shapes, and fascinating movements, are just some of the sea's living jewels highlighted in Ripley's underwater art gallery.