865-205-9941
Get Directions
Come get rowdy with us! At Rowdy Bear Mountain, our Alpine Coaster is fast, smooth, and thrillingly fun! Come and experience the most unique and exciting way to take in the breathtaking views of the Great Smoky Mountains and beautiful downtown Gatlinburg.
There are 2 locations, one in Gatlinburg and one in Pigeon Forge.
ROWDY BEAR MOUNTAIN ADVENTURE PARK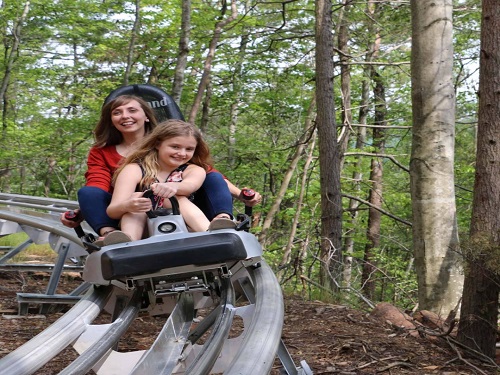 THE MOUNTAIN ALPINE COASTER
The Rowdy Bear Mountain Coaster is a gravity propelled Alpine Coaster that reaches speeds up to 35 mph while it winds through the Woods of Rowdy Bear Mountain. You control your speed! Riders may ride Single or Double *See Height and Weight Restrictions. This ride is easy to operate, you simply push your handles forward to go and pull back to slow down. This ride operates in the Rain, Sleet, Snow, and Sunshine. Rowdy Bear Mountain Coaster has the latest intelligent Distance Control System on our Carts. We are very Proud of this safety feature as it Does NOT allow carts to come in contact with one another. This Feature offers a Fun, Safe, and Enjoyable family experience.
Ride Requirements
Riders must be 3 years old AND 38″ tall to ride
Riders 3-9 must ride with someone 16 years or older
Riders Must be 54″ tall to Operate the Cart as a Single Driver
Max Weight for the Cart is 375lbs in Dry Conditions and 330lbs in Wet Conditions
Alpine Coaster Operates in The Rain, Snow, and Sunshine
THE MOUNTAIN GLIDER
Rowdy Bear Mountain is home to the Worlds First Mountain Glider. This Single Railed, In Air Coaster allows you to soar through the Treetops of Rowdy Bear Mountain while combining Free Falling and Hang Gliding into one fun safe experience. Your Adventure takes place from the 3rd Floor Of Rowdy Bear Mountain.
Requirements
Riders must be a minimum of 80lbs to Ride
Max Weight is 275lbs in Dry Conditions and 230lbs in Wet Conditions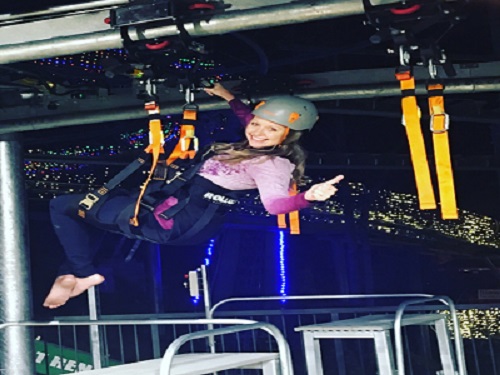 ---
Rowdy Bear Ridge Adventure Park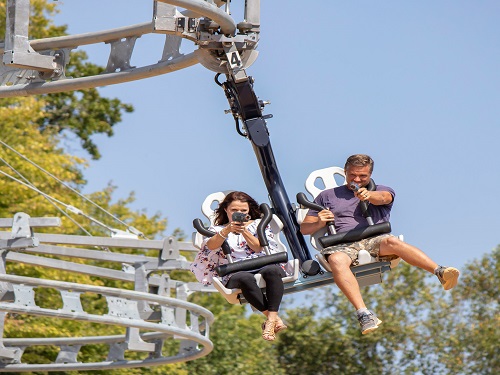 LASER GUN COASTER
Rowdy Bear Ridge is home to North America's First Alpine Flyer. This is a 2 seater suspended Coaster that swings, dips, and soars through the Ridge of Rowdy Bear. This coaster is suitable for riders 40" tall and up. Coaster operates day and night and can be combined with our incredible Tubing Hill by purchasing a combo ticket.
OUTDOOR TUBING HILL
Rowdy Bear Ridge is home to Tennessee's First, Fastest, and Longest Year-Round Outdoor Tubing Hill. This Tubing Hill is over 500 feet in length with a 70-foot drop and reaches speeds over 35mph. Guests can tube single or connect up to three tubes for an amazing adventurous experience.Once you're at the top of Rowdy Bear Ridge- take a moment to take in the beautiful views of Pigeon Forge and the Great Smoky Mountains. Guests can choose any color tube they like and make their way to the magic carpet conveyor. This conveyor takes Rowdy guests to the top of the Ridge- so no hiking is involved. This tubing hill is not a water ride, it is a year-round product that is brilliant blue in color. No worries, you're always dressed appropriately to ride.
This attraction operates in the day and at night, as our tubing hill is brilliantly lit with chasing LED lights. This attraction is perfect for families, friends, reunions, birthday celebrations, church and youth groups of all sizes!! Guests can choose from 1/2 hour or 1-hour wristbands for a ROWDY great time! Book your tickets now to reserve your spot.
Big Hill Ride Requirements
• Tubers must be 4 years of age
• Must be at least 42″ tall
Small Hill Ride Requirements
• Must be at least 2 years of age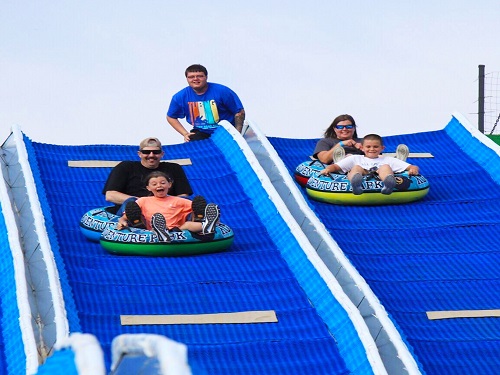 Start Planning Your Vacation Today!