15 Aug 2022
Bear Tracts can help you make a splash with a Gatlinburg cabin with a pool on your next vacation! 
Folks who have made the switch from hotels to vacation rentals said that they missed the fun the kids would have at the hotel pool. Don't fret — you don't have to sacrifice playing in the pool for more space and a fully equipped kitchen. We offer a great selection of cabins with a private pool, and many more with resort pool access!
We may be a bit biased, but we don't think there's a bad time to visit us here at the base of the Smokies, even if you and your crew are hoping to swim like fish!
So, When should you visit?
As you could expect, the area can become congested during the peak summer season and around the holidays. For fewer crowds, try visiting during the spring or fall. With select Bear Tracts rentals, swimming pools don't have to just be for summertime and warm weather. No matter what time of year you visit, then you stay at one of our premier vacation rentals with an indoor, private, heated pool you and the kids can swim whenever you'd like!
Check out these select Gatlinburg cabins with pools and book your next getaway!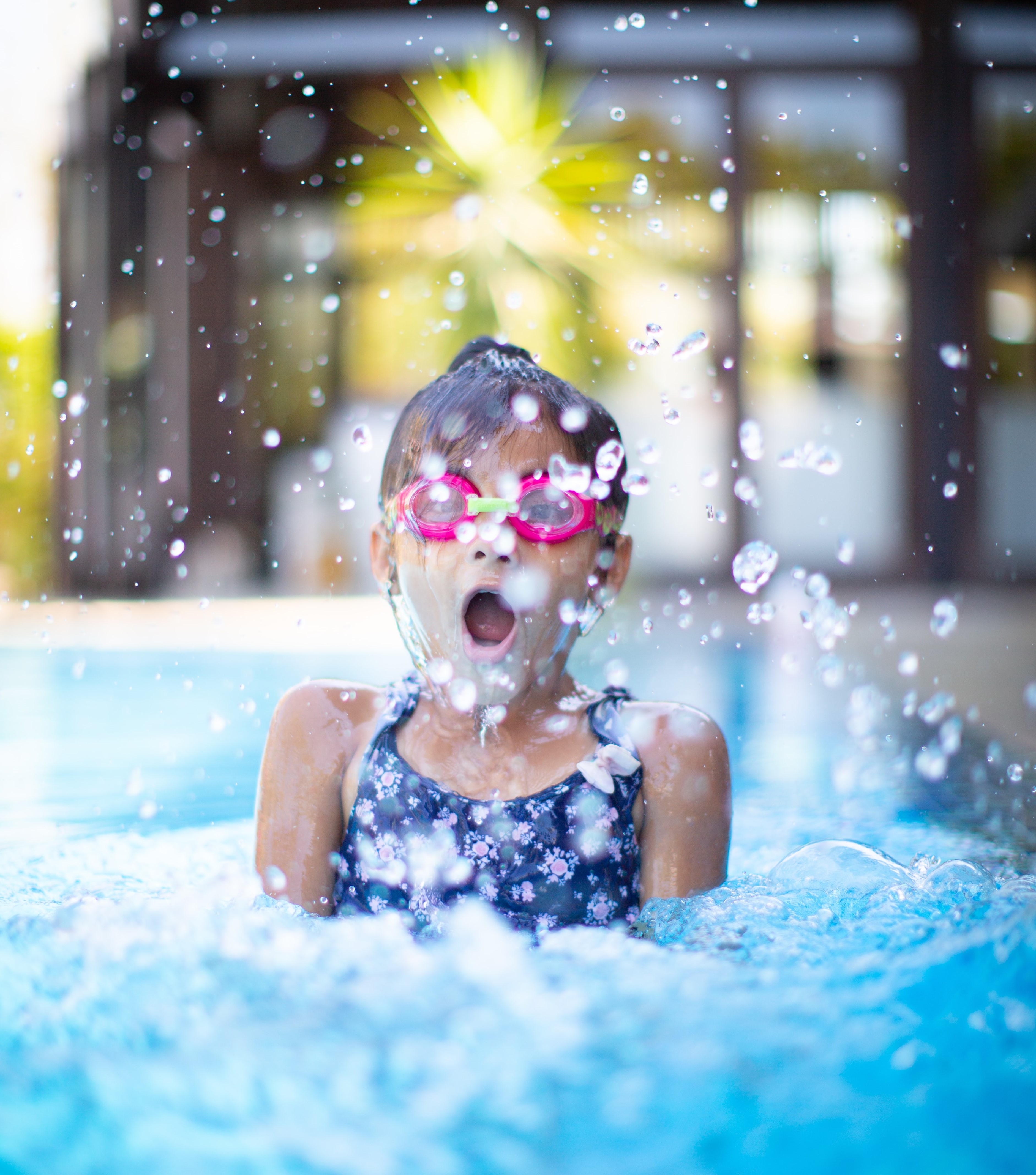 If you've decided to plan your visit for when summer rolls around, you might be hopin' to cool off after a full day exploring under the sun. We know it's not the heat—it's the humidity. So beat the heat and book one of our great cabin rentals out of Tennessee's best resorts. These resorts have a variety of amenities that can have your entire vacation feel luxurious.
At the Alpine Mountain Village Resort, they offer a seasonal outdoor swimming pool, walking trails, a playground, and even a wedding chapel. The Wilderness Theater and Lodge is a guest favorite for this resort. This Lodge has 3 bedrooms and can sleep up to 10. It has a hot tub, game room, pool table, and theater room which means you wouldn't even need to leave your cabin to have an action-packed vacation!
Another popular resort near Pigeon Forge is the Legacy Mountain Resort. This resort has a seasonal swimming pool that sits on top of the mountain and has a gorgeous view! Guests love to play in the resort pool and then head back to the Heavenly High vacation rental which has stunning, uninterrupted panoramic views of the smoky mountains and valley below. This home offers 2 bedrooms and can sleep up to 6. It has a pool table, fireplace, hot tub, and indoor jacuzzi tub!
Vacation Rentals with Private Pools
The only catch with resorts is they often have seasonal outdoor pools which are only open during the busy season. If you've decided to come in the fall, winter, or early spring, a resort pool may be closed. We also have a variety of fantastic cabins with private, heated, pools, so you can enjoy splashing away most any time of year. Many are indoor, but there are a few that offer an outdoor pool with seasonal heating for spring and fall months, though the pools do close in the deep of winter.
Private Outdoor Pools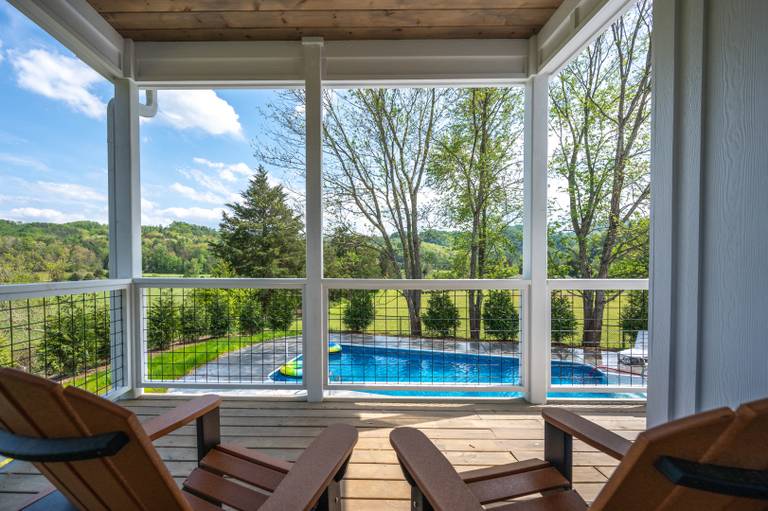 The Farmhouse is a secluded home on the west side of the Pigeon Forge region. It has 2 bedrooms and can host up to 4 guests. Perfect for a couples retreat or family getaway. It has a fireplace inside and out, a hot tub, a grill, and of course the private pool which is heated much of the year.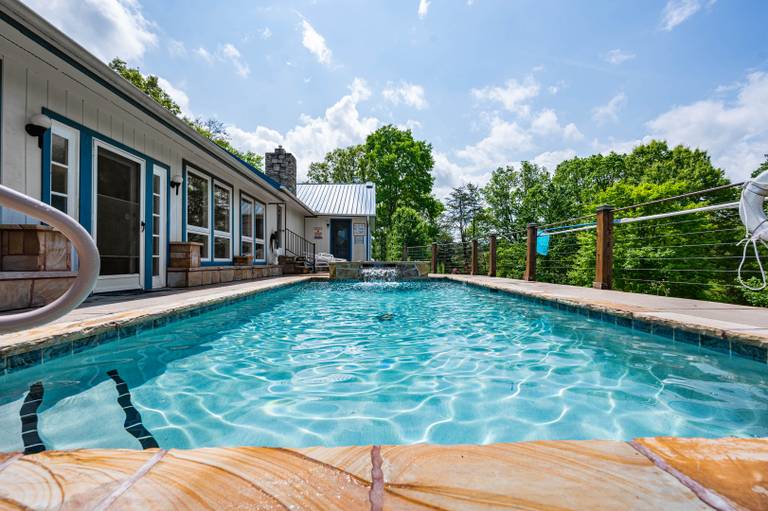 The Paradise Springs vacation rental is another home that offers a private outdoor pool that can be heated in the early spring/late fall, and during the warmer months so you can cool off on a hot summer day. This rental has a fireplace, hot tub, pool table, an outdoor fire pit, and has 5 bedrooms that can sleep up to 14 guests.
Private Indoor Pools
Private indoor pools are our guest's favorite amenity! We have a variety of vacation rentals with a private pool so the kids can play, and you can relax in the water. They're perfect for all times of the year, no matter if you're avoiding the heat of the summer, or keeping off the chill in winter, they bring waves of fun to any vacation. Book your stay at one of these great cabins with a private indoor pool and make a splash before you get to exploring everything Gatlinburg has to offer!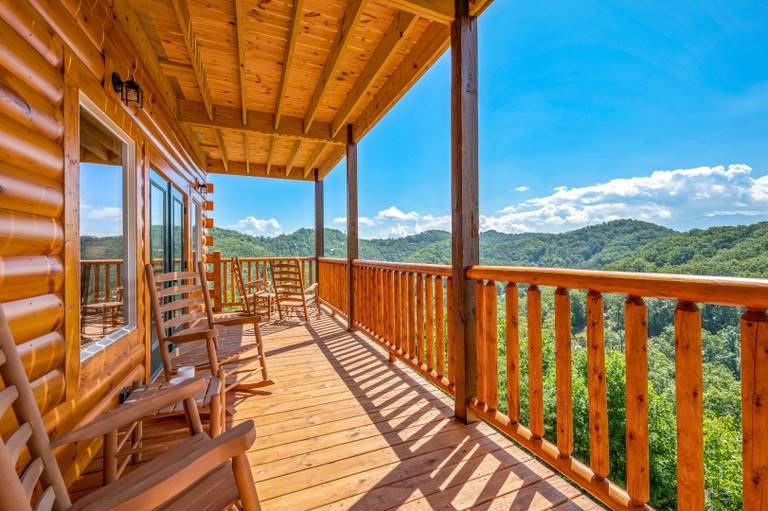 Cloud Splash is a 2-bedroom cabin that can sleep up to 10. Perfect for those trips with the kids and their friends, this home has a game room, arcade games, a private pool, and access to a resort pool for a change of pace. It features a stunning vista of the mountains from its deck and has a hot tub to enjoy.
Smoky's Splash is a 3-bedroom vacation rental that can sleep up to 10 guests. You'll be entertained your entire stay, relax in the hot tub, or kick back in the downstairs pool, watch for wildlife out the windows and play a few games of pool. There's even a fireplace for the classic cabin aesthetic.  Great for winter or summer and everything in between, this home has fantastic views of the valley below in every season.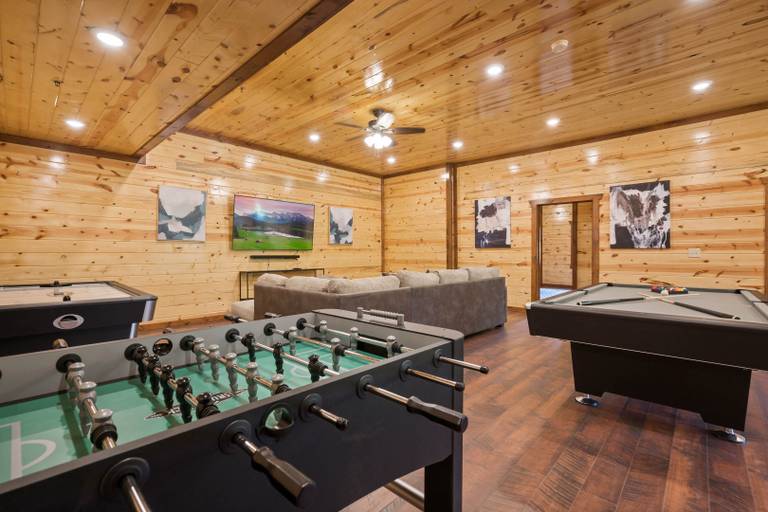 Smoky's Paradise is an 8-bedroom lodge that can sleep up to 20 guests! This huge home is great for getting the whole family together, a wedding party, or for a fun retreat. There's a game room with air hockey, billiards, shuffleboard, foosball, a hot tub, and a private indoor swimming pool! There's no shortage of ways to fill your vacation up with fun and bonding when you stay at Smoky's Paradise.
Browse our other Gatlinburg & Pigeon Forge rentals with a private pool or our resort cabins for community pool access, and book your stay for your next escape to the Smokies!